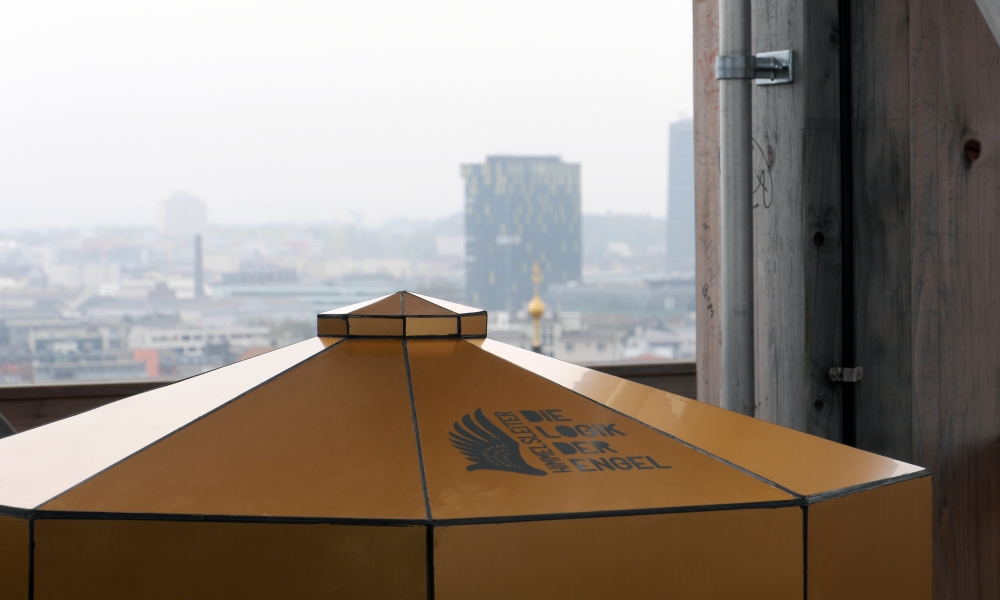 Die Logik der Engel: Himmelsleiter
Seven contemporary composers were invited to write short vocal pieces for the project The Logic of Angels. The NOVA vocal ensemble recorded these pieces at the ORF studio, augmenting them with music from the 13th and14th centuries. These recordings constitute the sound material for the installation.
A sound capsule moves vertically along the 30-meter-high Keine Sorgen Tower. Visitors can hear sounds from near and far, in other words, from up above or down below. The sound capsule becomes a kind of technical pseudo-creature, a sound messenger like an "angelic being."
Date/Location
20/05/2016 - 18:00 OÖ Kulturquartier Linz
Ein Projekt von
Idee: Christian Scheib, Elke Tschaikner, Fränk Zimmer | Konzeption, Realisation: Fränk Zimmer
Beteiligte Personen
With music from Erin Gee (US/AT), Rudolf Jungwirth (AT), Johannes Kerschbaumer (IT/AT), Mateu Malondra (ES), Joanna Wozny (PL/AT), Agata Zubel (PL), Vito Žuraj (SI). Music 13./14. century: Philipp der Kanzler, Adam de la Halle, Philippe de Vitry, Solage, Anonymus, Baude Cordier et al. Performed by the Vokalensemble NOVA (AT).
Idea: Christian Scheib, Elke Tschaikner, Fränk Zimmer
Installation concept, realisation: Fränk Zimmer
Programmer: Thomas Musil
Metal Construction: Hermann Schapek
Support: Martin Gross
Projektpartner
A co-production of Kunsthaus Graz and musikprotokoll im steirischen herbst. In cooperation with the OÖ Kulturquartier Linz (Höhenrausch).