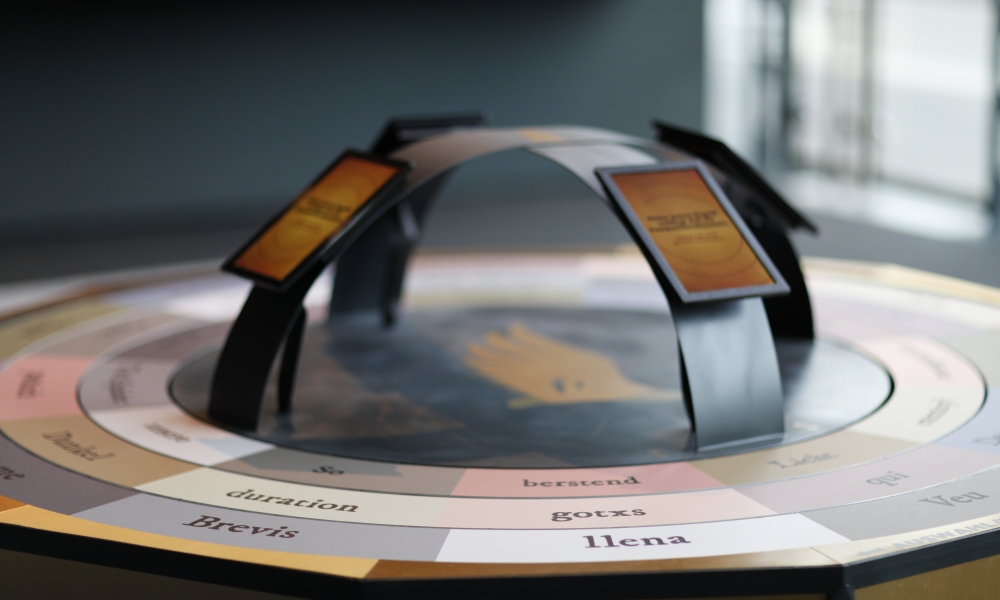 Die Logik der Engel: Llullophon
Based on a mediaeval logic machine that can even "prove" God, musikprotokoll builds an interactive sound installation at Kunsthaus. Vokalensemble NOVA deploys the Llullophone in order to marry very old with very new music.
"Die Logik der Engel" is distant vocal music from the 13th and 14th century, is miniature premieres from the here and now in a cabinet of mirrors. The basis of this fascinating journey back in time with six male voices, is an idea devised by Majorcan philosopher and theologian Ramon Llull who died 700 years ago. In his book "Ars magna" Llull describes a logic machine said to be able to distinguish between truth and lie. By rotating three mechanical disks, it was possible to combine concepts so as to form sentences supposed to serve as proof of God. Mathematicians and philosophers such as G.W. Leibniz (1646–1716) made reference to Llull's logic machine, and modern computer science sees it as an early "generative system", a precursor to modern computer systems based on algorithms. At musikprotokoll, Llull's conception is reinterpreted in the form of an interactive sound installation, a Llullophone that can be viewed, heard and operated at Kunsthaus Graz.
Date/Location
29/09/2016 - 18:00 Kunsthaus Graz, Space05
Ein Projekt von
Idea: Christian Scheib, Elke Tschaikner, Fränk Zimmer
Installation concept, realisation: Fränk Zimmer
Beteiligte Personen
With music from Erin Gee (US/AT), Rudolf Jungwirth (AT), Johannes Kerschbaumer (IT/AT), Mateu Malondra (ES), Joanna Wozny (PL/AT), Agata Zubel (PL), Vito Žuraj (SI). Music 13./14. century: Philipp der Kanzler, Adam de la Halle, Philippe de Vitry, Solage, Anonymus, Baude Cordier et al. Performed by the Vokalensemble NOVA (AT).
Idea: Christian Scheib, Elke Tschaikner, Fränk Zimmer
Installation concept, realisation: Fränk Zimmer
Programmer: Thomas Musil
Metal Construction: Hermann Schapek
Support: Martin Gross
Projektpartner
A co-production of Kunsthaus Graz and musikprotokoll im steirischen herbst. In cooperation with the OÖ Kulturquartier Linz (Höhenrausch).
Spezifikationen
Interactive sound installation 2m x 2m, Stahl, Klebedruck, Interfaces, Sensoren.